Enjoying lake Como cycling with your mountain bike or e-bike
Italian lakes are among the most popular destinations for cyclists coming from all over the world. We've already talked about that: the stunning views, the variety of routes and, of course, the food stops. Among all the lakes, Lake Como is a beloved place, with its mix of history, nature and sport, and year after year, it hosts cyclists coming to explore the area.
The choice between one itinerary instead of another is never easy, as the place offers routes of every kind, starting from the main roads you can climb up to the forested hills and then head back to the village for dinner. But you can also choose the easier paths, just to enjoy nature, views and open air. However, due to the geography of this area, some choices are more popular than others, like a mountain bike and e-bike cycling tours.
Choose between e-bike or mountain bike and discover the best itineraries around Lake Como.
These two ways of cycling are surely different, though both very tempting. The terrain around Lake Como is certainly hilly and mountainous, so cycling around could not be an easy job. That's why lately more and more people are turning to e-bike cycling to deal with every road with less effort. Not to be confused with motorbikes, the e-bikes help the cyclist only when they start to pedal by themselves. The electric motor only works when pedals are pushed and stop if the bike reaches a certain speed, that can vary from 25 to 45 kilometres per hour, depending on the bike. Electric bikes can be used to cycle every itinerary, they can accompany you off-road on some of the hardest trails, help you pushing harder while climbing on a steep hill and also ride you through the city roads or by the lake.
So, e-bikes can be a useful help to enjoy every ride in an easier way, but many people still feel more comfortable with a classic mountain bike. More famous than the others, mountain bicycles are a quite common choice among cyclists who decide to travel to Como to explore the hills. Their typical characteristics are in fact perfect for climbing and going off-road, riding on rocks, roots, steep grades or mud.
Ride on the ridge of the highest mountains on Lake Como and enjoy the stunning view
The surroundings of Lake Como are scattered of itineraries thought for mountain bikes, both classic and electric, that vary in length and difficulty. The most popular routes go from 25 to 60 kilometres and extend on a huge area, crossing natural parks, Italian-Swiss mountains and suggestive woods. 
The most panoramic itinerary is probably the one that, crossing Bellagio, rides the whole mountain ridge of Lake Como triangle, offering a wonderful view both of lake branches and Mount Grigna. This route is also the longest one, with its 60 kilometres and a riding time of 6 hours. It is considered as a very hard itinerary, with an initial climb to reach Mount San Primo, from where you can enjoy a breath-taking view over the whole Lake Como and on Lecco, Northern and Como branches, and an easier way back cycling down on the eastern coast.
Challenge yourself with extreme downhills and hard paths at 1500 metres of height
Another amazing but difficult itinerary is the Monte di Tremezzo trail that, with its extreme downhills, offers breath-taking vertical views over the entire Lake Como. It is the perfect choice for downhill lovers, as it is characterized by turns, grades and rocky sections for a length of 10 kilometres and a difference in height of 1400 metres. The starting point is reachable with a funicular and an initial climb up to 1500 metres.
If the previous routes were hard paths, the one that crosses Italian-Swiss mountains is extreme. It leads you on the mountain crown between lake Como, Val d'Intelvi e Lugano Lake, where you can choose between a great variety of trails and single tracks. It starts off-road, climbing to reach the summit of Monte Bisbino, from where an unpaved road will lead you to Val d'Intelvi and to another climb to reach Monte Generoso. It will take you at least 6 hours to reach the end of the path, riding for 70 kilometres. This route is considered extremely hard and can also be split into single parts instead of enjoying it all at once.
Enjoy relaxing routes cycling through woods, historical sites and natural parks
Don't worry, there are also several not-so-scary itineraries, crossing woods and natural parks. A first option can be the one crossing the Sentiero dei Faggi, a spectacular single trail of 5 kilometres. It leads you through a suggestive beechwood at an elevation of 1100 meters and offers different ways of coming back, as you can choose between many tracks of different technical levels. It is considered a moderately difficult path to ride and it is included in another longer itinerary of 35 kilometres.
Another easy itinerary is the one that extends into Spina Verde Natural Park, a cross country ride over the border between Italy and Switzerland. This is a unique 25-kilometres itinerary, plunged in a natural park that offers countless trails and historical sites from the First World War. While cycling, for at least 4 hours, you can also enjoy the view over Como city and the lake, and cross several Swiss Merlot vineyards.
Finally, the easiest path you can choose is probably the one that crosses Valle della Motta natural park, in Switzerland. It is a relaxing and a quite easy itinerary to ride, mostly flat and entirely surrounded by nature, with a length of 30 kilometres feasible in 4 hours. The park is located off Como city, between Chiasso and Mendrisio, and it is crossed by river Roncaglia. This route could also be interesting if you are passionate in History or architecture, as it is rich of architectural points of interest, as for example three watermills. 
Coming to lake Como to enjoy the many bike tours is a very common choice for tourists, the surrounding cities usually offer a lot of services for cyclists. Among them, bike rentals and hotels are always equipped for every need. 
Our Hotel Loveno is certainly one of them, we love hosting cyclists and tourists coming for the tours and we are always ready to supply the necessary for our two-wheeler visitors.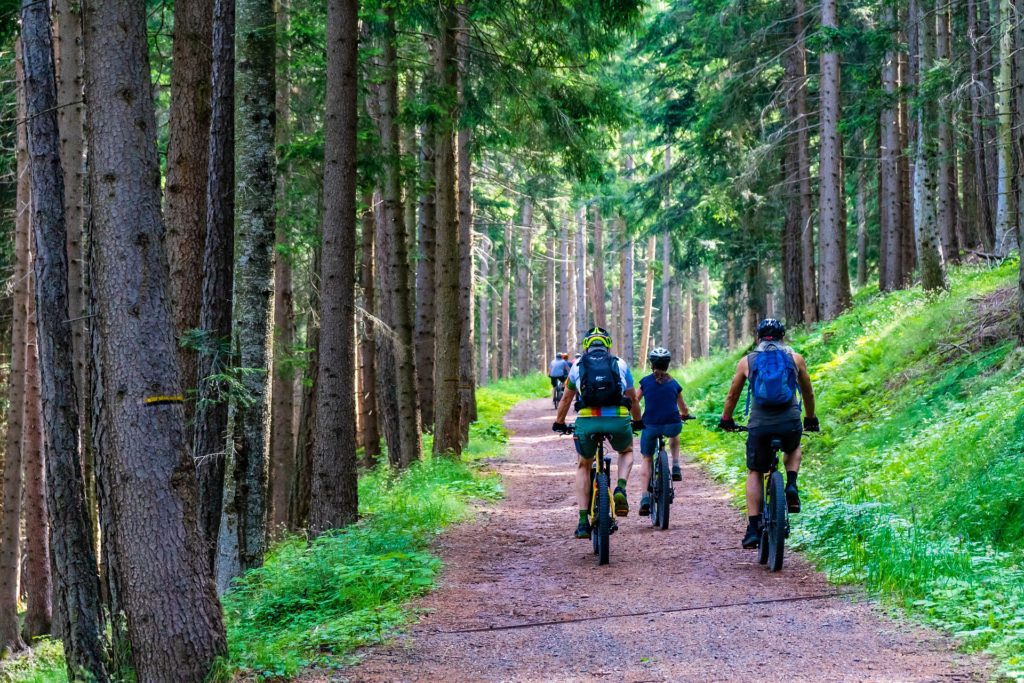 Contact us to discover more info @ hotelloveno.com.
–  Sara
Sources:
https://www.comobiketours.com/guided-bike-tours/mountain-bike
http://www.followmywheel.com/single-post/Best-place-to-cycle-Lake-Como-or-Lake-Garda
https://www.bikeitbellagio.com/electric-bike-rentals.html
E-Bike Tours: Panoramic Rides on marvelous Lake Como [...]