Tours and excursions lovers: the eye-popping Lake Como cable cars are waiting for you.
Willing to see Lake Como from another point of view? This will surely catch your attention! 
Did you know that on Lake Como you can do exciting tours taking a panoramic cable car? If not, you cannot miss this reading!
Today we're going to tell you about cool cable cars which will make your day!
If you love new experiences and do not fear the height, you should try to take a funicular and climb the mountains to enjoy a marvelous lake view. We assure you: you won't be sorry!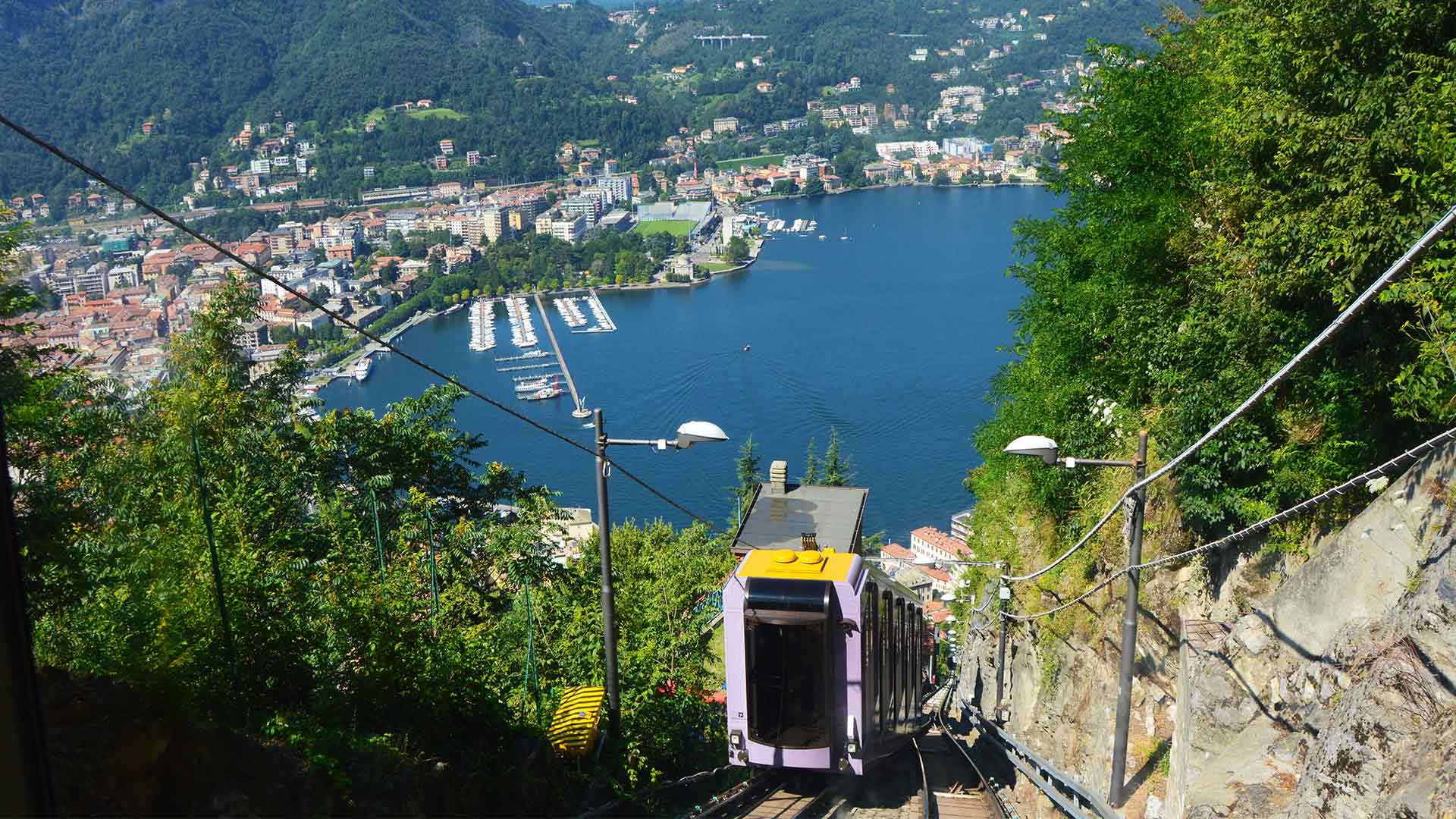 On Lake Como, we suggest two famous cable cars you cannot miss: Como-Brunate and Argegno-Pigra.
Both cable cars have been built to connect the lake with the mountain, to overcome the difference in altitude over their distance. 
The cable car is still now the quickest way to reach Brunate from Como and Pigra from Argegno. A perfect tour and excursion if you're eager to explore.
History and curiosities of Lake Como cable cars.
Born in 1894, the Como-Brunate Funicular links the two towns in a few minutes with a stunning view.
At that time, this connection was a real revolution and contributed to tourism expansion together with several new means of transport. 
In 1911 the funicular traction system changed from steam to electricity. Today this cable car is run by ATM Company and respects all environmental and safety regulations despite its age!
After your uphill short journey, you'll get to a scenic and lovely terrace where you can sit down with a drink to enjoy the amazing view of the lake or start your exploration around Brunate's best spots.
Brunate is known for its numerous eclectic and Liberty villas and its several all-embracing panoramic points, so much that it's also called the "Balcony on the Alps".
Just 30 mins away from Como you can find another noteworthy cable car. This one will take you from Argegno to Pigra. Pigra is located on a plateau from which to enjoy a beautiful panorama of Lake Como.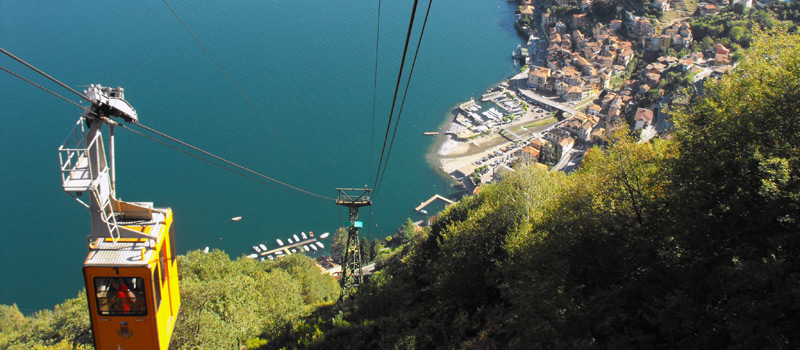 Its cable car is called "funivia" different from the funicular, whose cable moves on a railway, because of its twin-cable railroad. While you are sitting on a sort of a train in the funicular, you are swinging in a car when in the aerial tramway. That is so much fun, except when it's windy outside!
Argegno-Pigra cable car was inaugurated in 1971, after a structural review lasting more than a year. Its route is simply fascinating: a 4-minute-vertical drop of 653 meters, with an average gradient of 71%, at the speed of 5 meters per second.
Once you've reached Pigra you'll have plenty of choices. You can visit the old town with its historical houses, San Rocco's Square with its eighteenth-century buildings, and "Al Cason", the local Workers' Society headquarter, founded in 1877, now a museum.
If you prefer doing an excursion, Pigra is the ideal starting point for hiking to Mount Galbiga, Alpe di Colonno and Tellero.
Prices and information about Lake Como's cable cars.
If it's true that traveling by car is the best way to enjoy the panorama around you, taking a tour on a funicular is way more thrilling and scenic at the same time.
If you suffer from vertigo stay away from this kind of experience! If not, you can't miss this kind of magic.
To get on the Como-Brunate funicular take note of the following addresses:
In Como, reach Piazza Alcide de Gasperi no. 4, while in Brunate get to Piazza Bonacossa, to start your journey.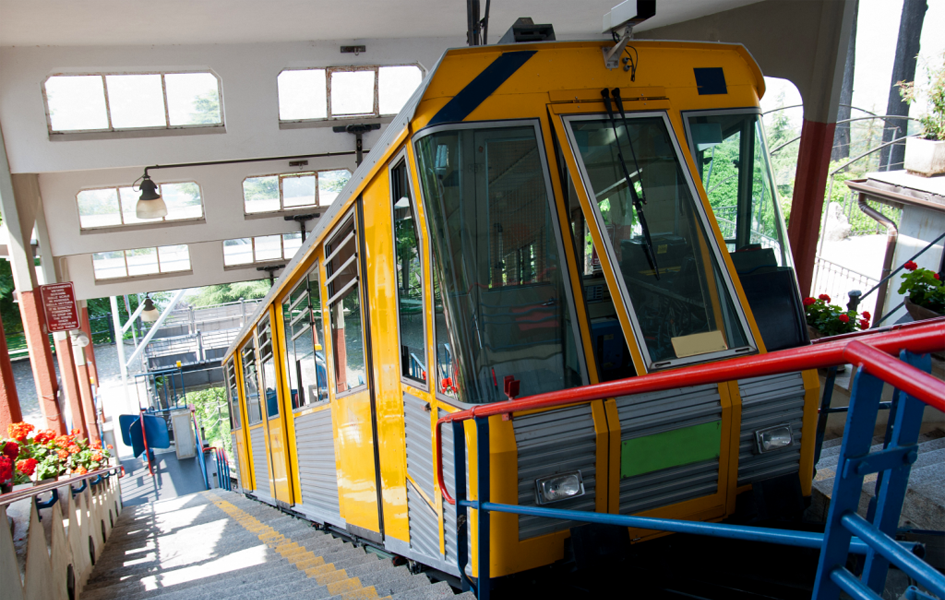 The funicular observes the following times: every day from 6 am to 10.30 pm, Saturdays from 6 am to midnight. During the summer, the service is extended until midnight every day.
The journey takes less than 7 minutes, departing every 30 minutes. 
Instead, to reach the Argegno-Pigra cable car here you are the addresses:
In Argegno, you'll find the station in via Spluga no. 39, while in Pigra it is located in via alla Funivia.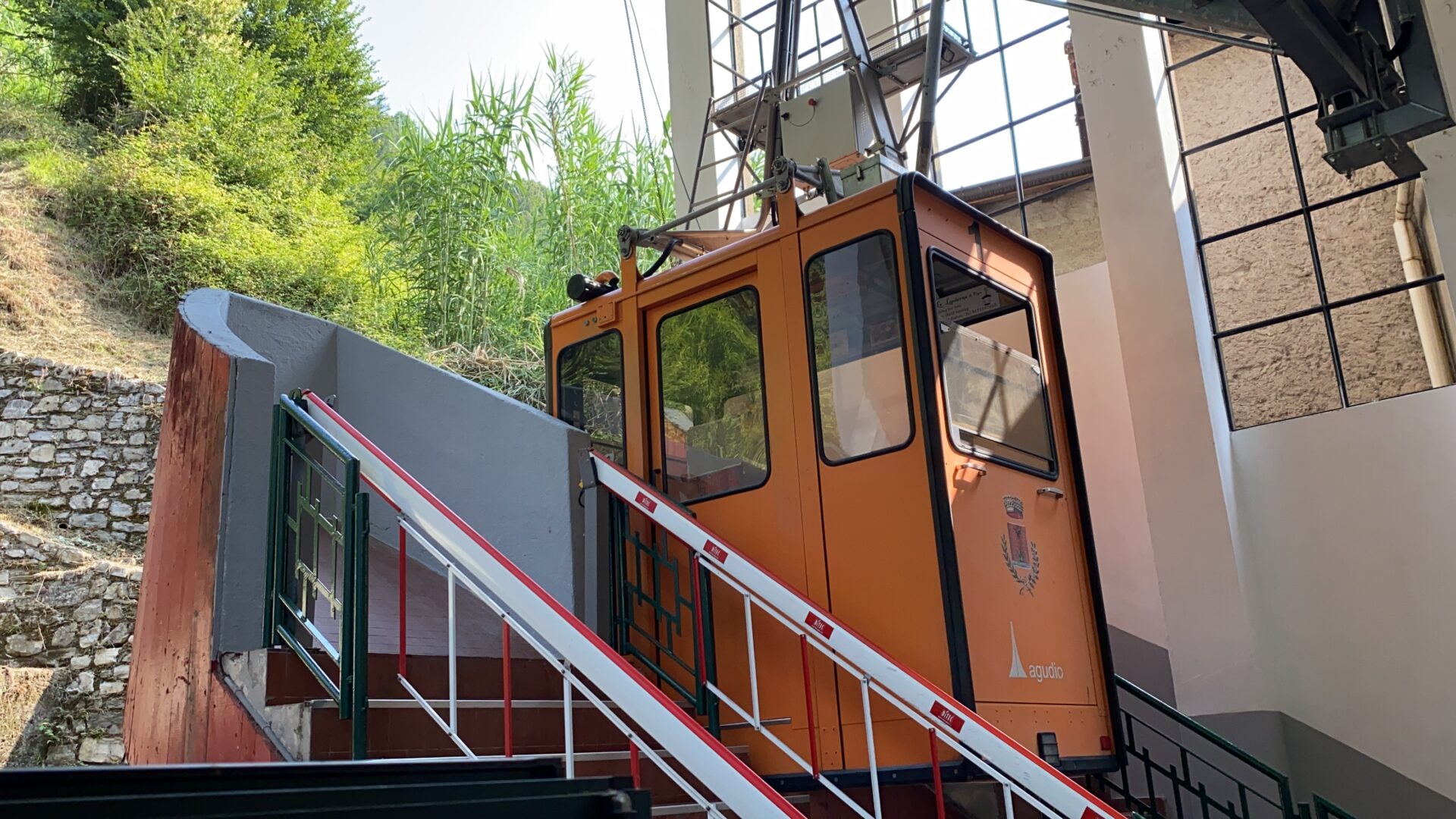 During the summer season, the cable car runs from 8:30 to 12:00 and from 2.30 pm to 6:30 pm. During the winter season, however, the timetable includes journeys from 6:40 to 11:30 and from 2 pm to 4:30 pm on weekdays, and from 8:30 to noon and from 2 pm to 5 pm on holidays.
The journey takes 4 minutes, departing every 30 minutes.
Tickets can be purchased at ground level. Both tramways are very cheap.
Como-Brunate funicular's one-way ticket price is around 3 €, while round-trips are 5,70 €.  Reductions for children and travel cards are available upon request. 
Same for Argegno-Pigra, which is 3,50 euros to go and 4,50 € for the round-trip.
On both cable cars you are allowed to bring with you pets, luggage, and bicycles with a small extra fee, depending on how much space the objects are taken.
You're never going to get bored in Lake Como 
Whether you wish to do a relaxing holiday or an everyday-tour vacation, Lake Como has so much for you. 
What is sure is that at our Hotel Loveno we'll suggest to you the most eventful experiences. 
Mingling with locals, taking off-the-beaten-path tours and excursions (LINK ALL'ARTICOLO DELL'ORRIDO), feeling the thrill of a water sport activity (LINK ALL'ARTICOLO DELLO SPORT), enjoying the eye-popping view of Lake Como on its cable cars.
All you need to do is to come to our family-run Hotel and book your stay, it'll only be the starting point of your endless adventures.
Our Hotel Loveno is located in Menaggio on the western coast of the lake, only 30 mins from Argegno and 1 hour from Como city center.