Searching for new things to do on Lake Como? Discover its surroundings and get to Rescia Caves on Lake Lugano! 
If you know Lake Como like the back of your hand and you're looking for some new things to do on the Lake, you'll certainly love this place!
Located 45 minutes away from the city of Lugano, in Switzerland, and only 30 minutes from Menaggio, where our Hotel Loveno is, Rescia Caves are a spectacular natural wonder on the Italian coast of Lake Lugano.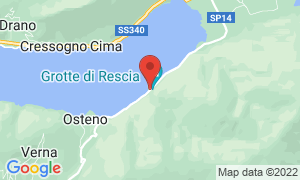 Rescia Caves are a series of 7 caves, on 2 levels, formed from flowstones of travertine, misleadingly called "tuff" from the inhabitants of this area, and joined together by internal tunnels for a remarkable 500-meter-walking. A place out of time and space that will please your senses.
But let's get deeper and know Rescia Caves better.
History and geography of Rescia Caves on Lake Lugano.
Rescia Caves dated back to 80 million years ago when the travertine stone started its formation.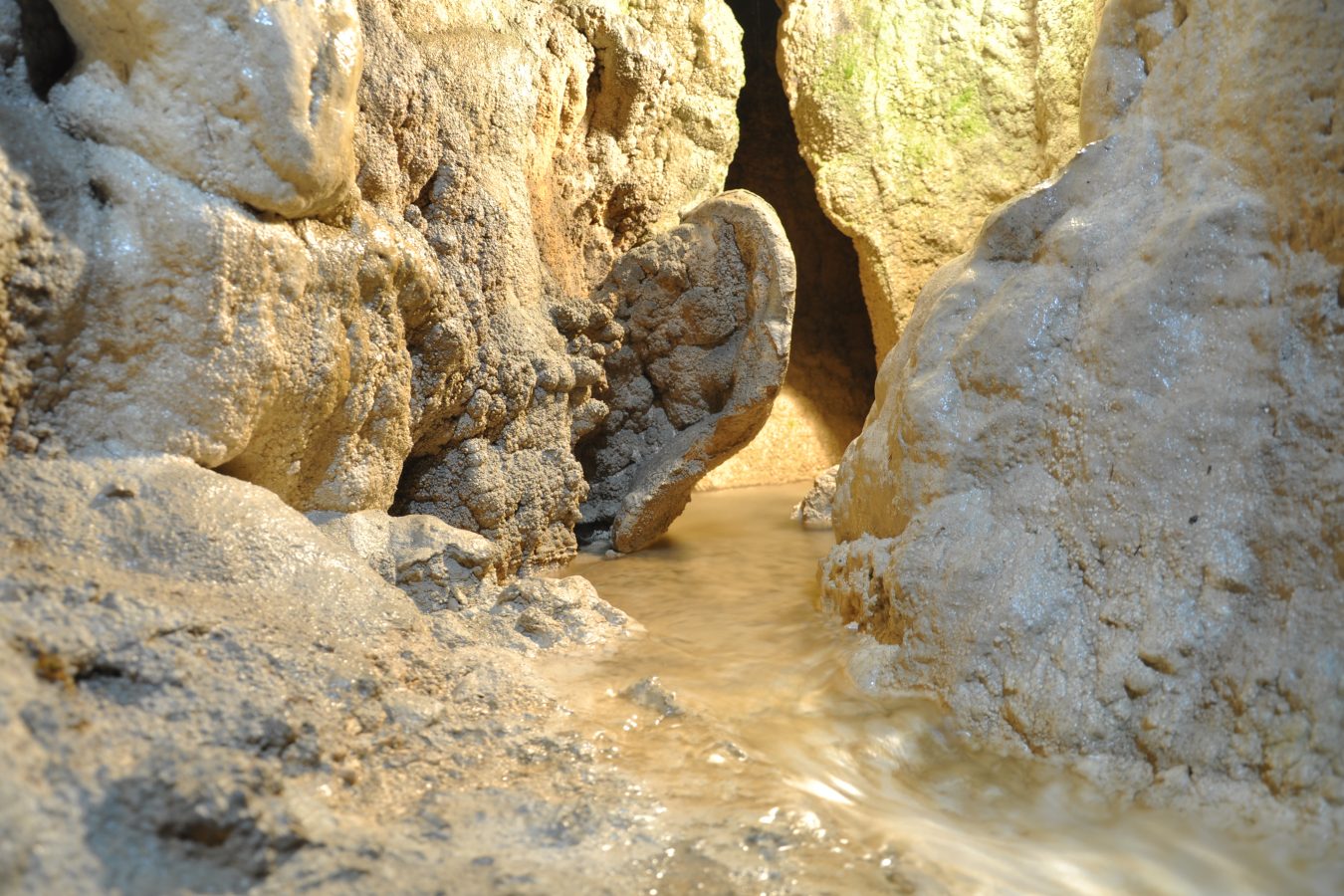 Why are these caves so important and unique? 
First because these 7 caves are primary caves, which means they were formed at the same time as the rock in which they are. An extraordinary thing that makes them even more fascinating.
The caves were formed in 2 different phases. It was during the first phase that the travertine, which is a type of sedimentary limestone rock, formed huge and rare cavities that we can still see today in the Rescia Caves. 
The abundance of calcareous spring waters in this place eroded the rock and permitted the sedimentation of minerals giving life to stalagmites and stalactites and other rare concretions and formations, that it's possible to admire during the visit, still in activity today.
According to some writings, since the beginning of the 1700s, Rescia Caves were explored by tourists from all over Europe, but above all from nearby Switzerland. They could be reached only by boat across the lake and explored thanks to a local guide equipped with a ladder and a faint torch.
In the nineteenth century, the caves have been connected to each other, by human interference, and provided with artificial lighting, by the engineer Mr. Chiverny.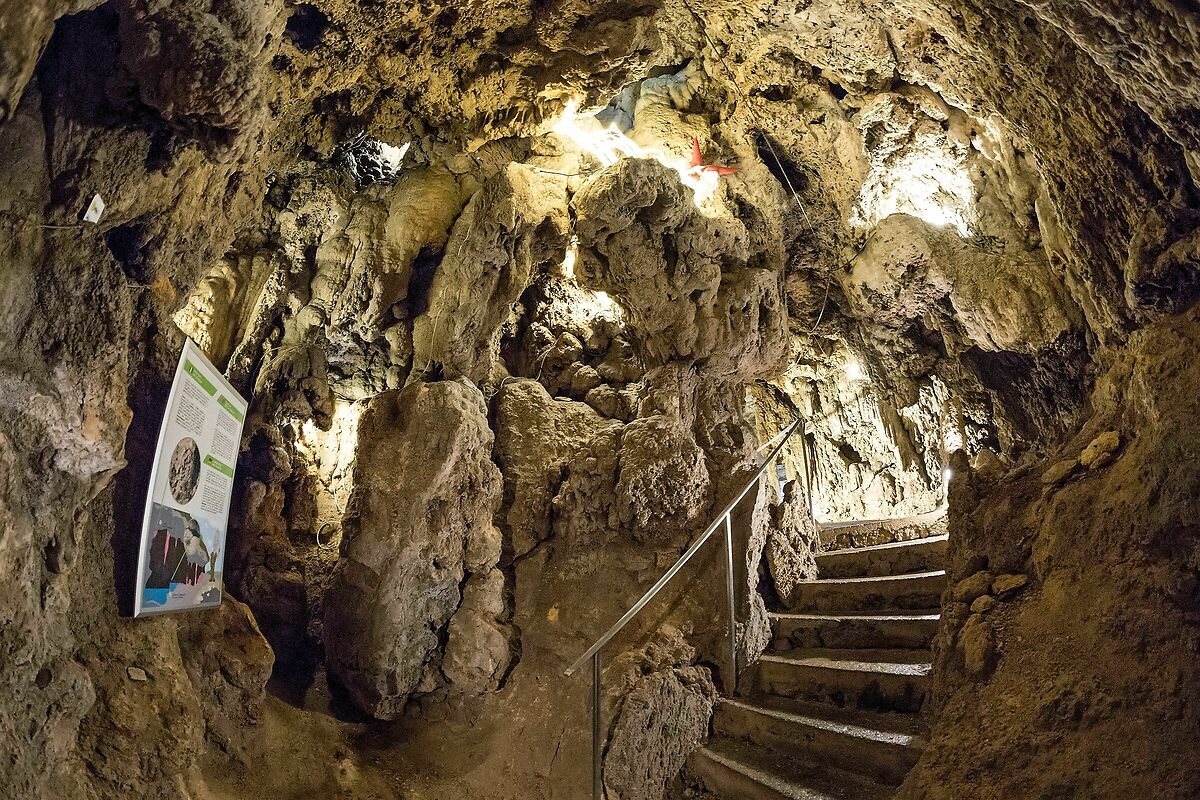 Peculiarities and curiosities of Rescia Caves and its surroundings on Lake Lugano.
One of the caves contains a natural opening overlooking a marvelous panoramic view: the "Orrido di Santa Giulia", a ravine that features a 70-meter-waterfall dominated by the massiveness of the surrounding mountains, that is worth undoubtedly a visit.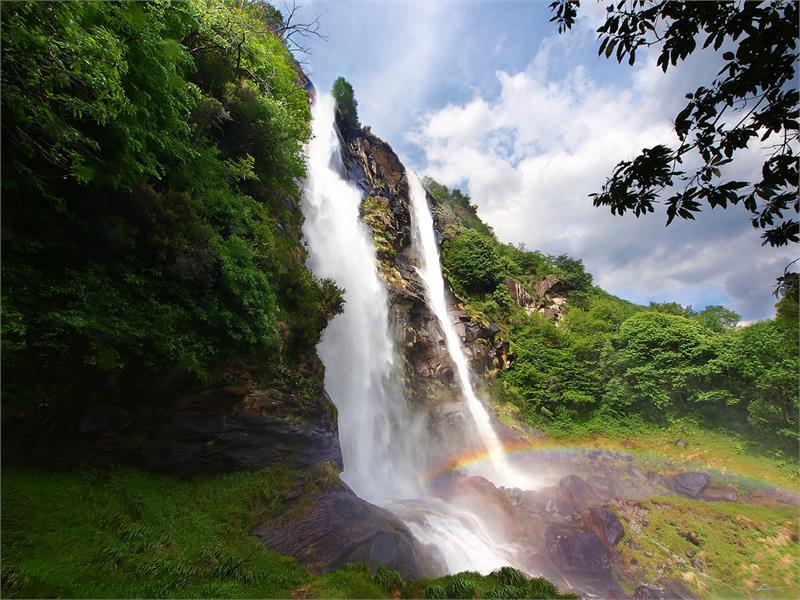 To Saint Giulia, a seventeenth-century church it's also dedicated. It's possible to reach St. Giulia's Church, by a short but not-easy walk to enjoy a panoramic view overlooking Lake Lugano, Porlezza's town, and the Valsolda too. If you are a mountain bike lover, you can reach it even more easily.
The peculiarity of Rescia Caves, compared to those we are used to, is their formations inside cavities dug into the travertine, due to the constant and millenarian melting of the limestone, unlike the common caves formed by the corrosive action of water flowing on and under the rocks.
The 500 meter-walking-path that crosses the caves, created at the beginning of the 1900s, is made up of steps and steel walkways, it joins all seven caves and branches off among the various rock formations until you arrive in front of a small lake of crystal-clear waters into which a beautiful waterfall flows, coming out from the belly of the rock. 
A place of incredible beauty that can tell countless stories and let you feel unforgettable emotions. You'll feel enveloped by the mountain and its majesty during all the visit.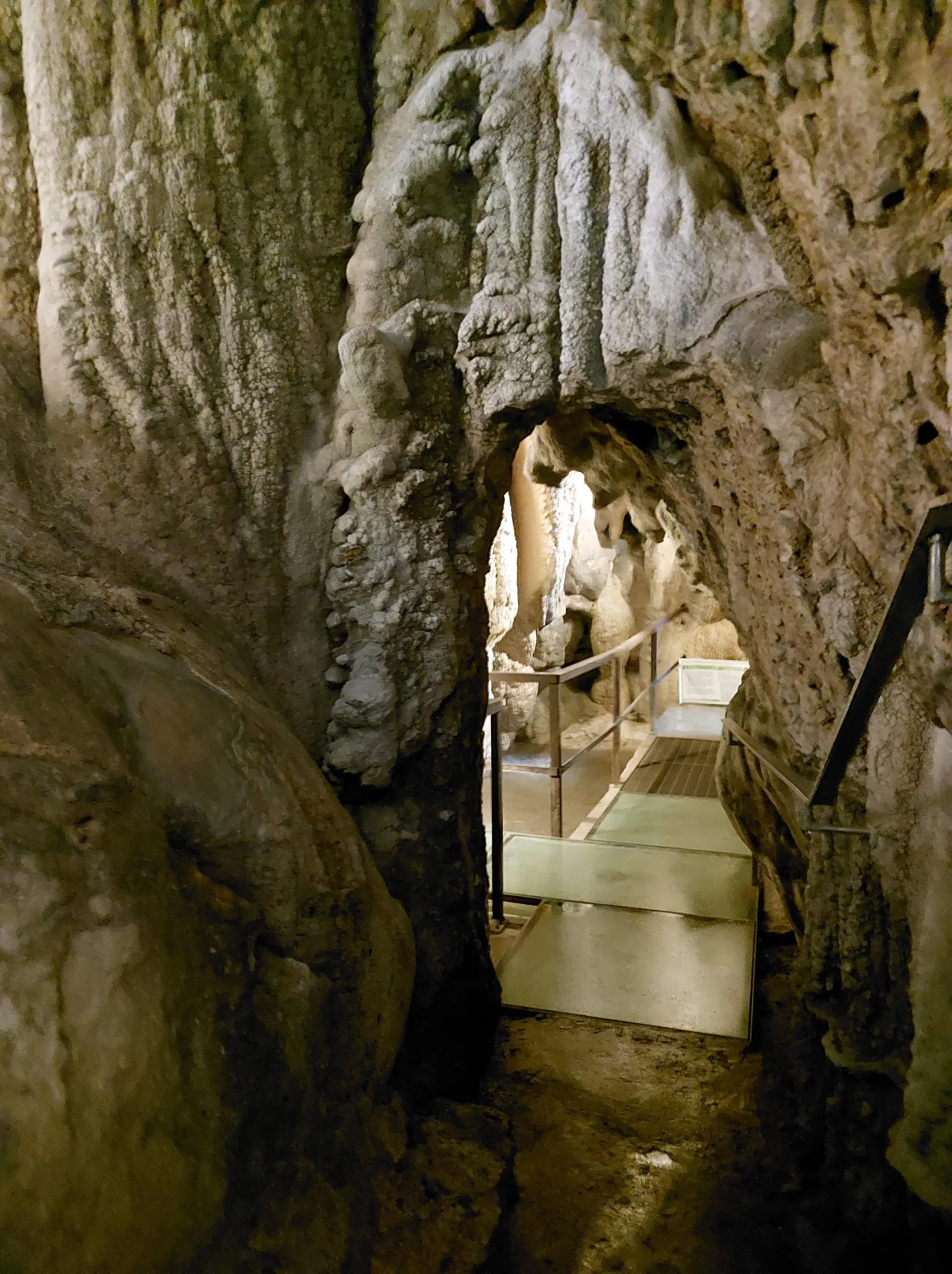 How to get to Rescia Caves.
Rescia Caves are located in Claino con Osteno's locality of Rescia, in province of Como, in the splendid setting of Lake Lugano.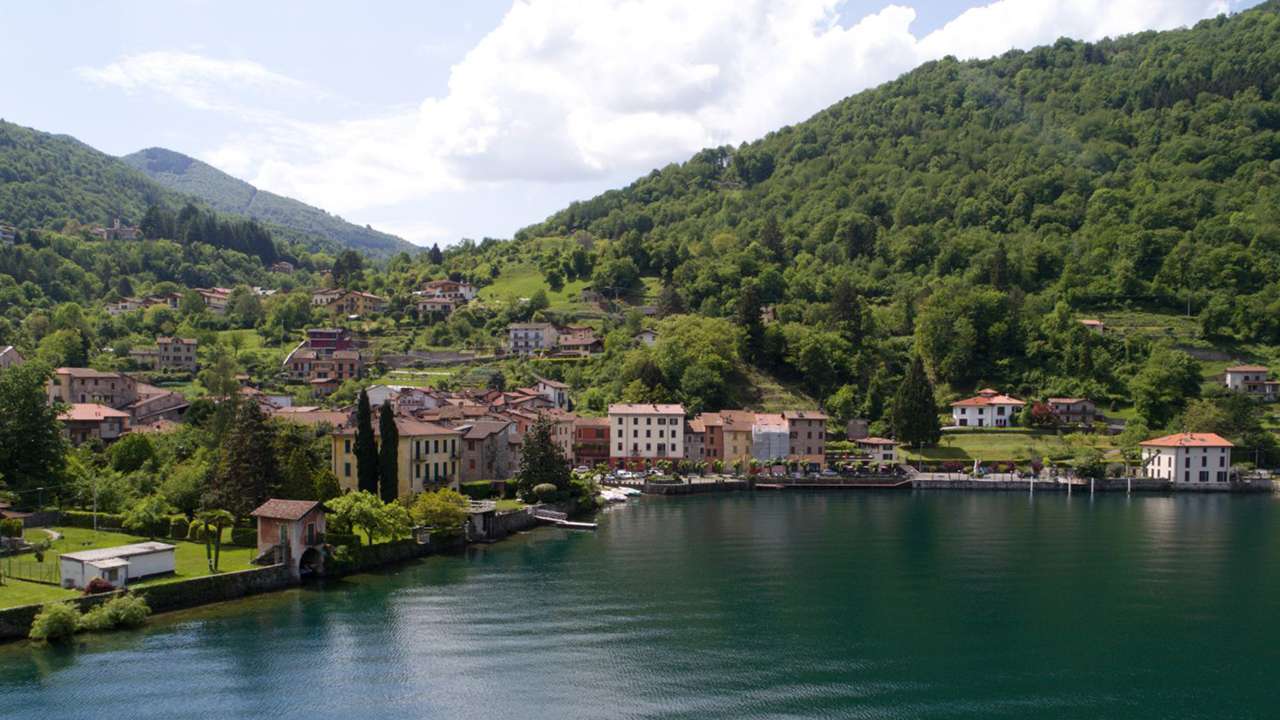 As soon as you pass the entrance, once there, you immerse yourself in a fairy forest completely immersed in a surreal atmosphere that characterizes the whole place. To get to the entrance of the caves, take the paved path on the right, slightly uphill, and in a few minutes, you'll get to a wonderful natural place.
Rescia Caves are way evocative also during Christmas time because of its events. On that occasion, the entire cave is carefully decorated and illuminated with colored lights and candles to make it even more magic and evocative.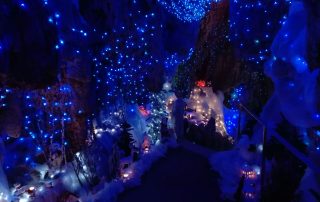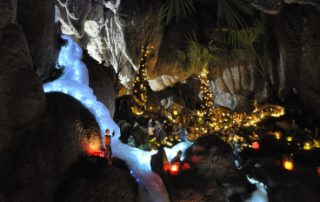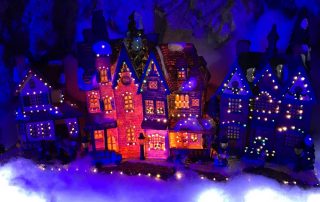 In addition, during the entire year, the organization sometimes hosts cultural events, photographic exhibitions, and art installations. Check it through the official website or ask our Reception at Hotel Loveno to look into it for you! https://grottedirescia.it/en/home-english/ 
Since it's a private property, the Caves are open at a scheduled time and require a ticket, which is € 7 for adults, 5 € for teenagers, and € 3 for children, with the possibility of having reductions for families.
The self-guided tour, characterized by signboards in multiple languages, lasts about 25 minutes, but it is also possible to take part, upon request and with an extra cost, in guided tours lasting about 45 minutes. We highly suggest this option for you to live the experience at best with Melania, an expert guide, who will satisfy your every curiosity.
From our Hotel Loveno you can get to Rescia Caves in about twenty minutes by car, exploring the area between Lake Como and Lake Lugano in total relaxation, pleasing your eyes with lovely views.
So, a perfect idea if you are looking for new things to do on your Sundays or holidays.
The address is: Via Porlezza 63 – in Claino con Osteno (CO). You can park your car for free in the square in front of the entrance of the Caves or in the parking lot inside the adjacent campsite.
If you have any questions, just ask our staff at Hotel Loveno, we'll be happy to assist you to organize your stay at best, enjoying the beautiful Lake Como and Lake Lugano.