Hello!
If you love reading as we do, this article is for you!
Bookcrossing has been talked about for years now, even on Lake Como. Some associations organize it for their members for special occasions like Christmas, but what we like even more is being able to find the possibility to share a good read on a nice walk or in a beautiful square.
Many places and different types of containers have been used to house books in the last few years. And as we love the idea of bookcrossing, since the first year we have decided to have a point in our hotel!
We often see boxes and cases around, so we have decided to do a little research and make a list of all the known bookcrossing places around our beautiful lake.
Besides our very own bookcrossing station that can be found next to the bar here at Hotel Loveno, a very nice gem is the FRIGOLIBRO (literally the book fridge) in Naggio in Grandola ed Uniti. The town itself is splendid and being able to find a good read makes it even better, especially after having experienced some activities organized by the association "Amici di Naggio".
In the Northern part of the lake, a bookcrossing point can be found in Pianello del Lario, along the path between Pianello and Cremia.
In the Southern part of the western lake branch, two are in Cernobbio: one on the lungolago and one in Giardino della Valle.
Then in Como books can be shared and re-shared in front of Teatro Sociale, just behind Piazza del Duomo, and at Ostello Bello. Other places around the city have also been mentioned by local bloggers.
In Lecco, on the East branch of the lake, 15 bookcrossing boxes are active:
Piazza Lega Lombarda (just before the station underpass)
Piazza Garibaldi (next to the newsagent)
Lungolario Isonzo (War memorial)
Lungolario Cadorna (in front of Stoppani's statue)
Piazza Cappuccini 6 
Via Don Bosco (Parchetto Rancio Inferiore)
Via Eremo (Parchetto di Germanedo)
Via Ghislanzoni (Politecnico)
Via Buozzi (Centro Sportivo Bione)
Corso Bergamo-Chiuso (next to Conad)
Villaggio V Alpini di Germanedo
Ospedale Manzoni Lecco
Laorca
Pizzeria Fiore
Parchetto di via Martiri di Nassirya.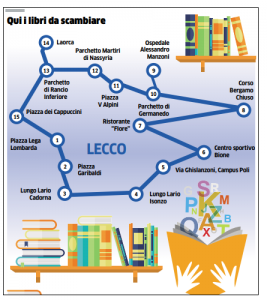 Last but not least, going north from Lecco another bookcrossing point can be found in Mandello del Lario in Piazza IV Novembre.
Come enjoy the bookcrossing stations around Lake Como with us, and help us discover more!
For any information, you can contact us at info@hotelloveno.com. 🙂